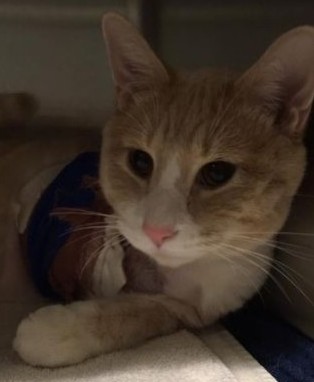 Hello!  I am very new to Tripawds, so bear with me as I try to figure out how this blog works on my very slow laptop.  My name is Bekah and my world was turned upside down when this handsome fellow entered my life.  Here is a little history, just to give you more information.  I am currently interning at a vet clinic after 2 years of going to college to become a Veterinary Technician.  In 4 weeks, I will graduate.
Pookie showed up at the clinic on 3/28/16.  He was currently staying at the humane society. He had a broken leg from some past accident that had healed wrong, resulting in his front right leg bending inward at an awkward angle.  I helped monitor him during his surgery and recovery.  The next few days, I began to fall in love.
As Pookie continued to recover, I spent more and more time with him.  I filled out an adoption application and turned it in the following Thursday.  The Humane Society contacted my on Friday and told me they would love for me to foster him, since I helped with his surgery and could tell if anything was going wrong with his incision.  I agreed, and I intend to adopt him as soon as he is feeling better.  So on my 21st birthday, (4/1/95), I took Pookie home with me.